Okay, have you seen that movie "13 Going on 30" with Jennifer Garner? There's a line in the beginning that's always made me laugh…she screams, "I wanna be 30!" Well, that's exactly what I scream…but replace 30 with tan. I know that sounds like a stretch, but in the movie 13 year old Jenna (appropriate name right? HA) longs to be 30 and here I am longing to be tan. Okay, I'm done with that analogy.
Don't we all feel better when we're tan? I've never been super comfortable with my weight or my body, but let me tell you, when I'm tan I feel like I could conquer the world. Something about walking around like a bronzed goddess boosts my confidence to the highest degree. If you've tanned in a salon in any way, you know how pricy and time consuming it can be. Well, I've got good news for you…I've been self tanning at home all summer. I've tried both high-end expensive self tanners and ones for under $10 you can grab at the drugstore. Today, I want to share with you everything I've used and my thoughts and experiences with each.
Isle of Paradise tanning water, dark bronzed glow – $28
Pros:
It smells amazing, literally like a tropical paradise!
Because it's a tanning water and not a mousse, theres no immediate bronze effect which means no transfer onto your white sheets or clothes.
It's really easy to use and essentially fool-proof.
It's not streaky and leaves you with a really pretty, dark tan!
It's not sticky AT ALL. By the time you're done tanning, you're completely dry.
Cons:
If you're new to self tanning, a tanning water might not be the best place to start. Since there's no added bronzer, you can't visually see where you've already tanned. Starting with a mousse might be an easier way to go when first starting out.
While I've only used the dark color, it is a little more on the orange side. While its a really pretty tan, its definitely not reminiscent of a 'natural tan.'
B.Tan tanning mousse, Tanned AF – $16
Okay…before I even give you the pros and cons I'm going to just go ahead and tell you this is my favorite. I was a little intimidated by it the first time because the mousse came out grey but, oh my word, give it 6 hours and your tan is beautiful!!!
Pros:
The first pro is, DUH, the price. Only $16 and it lasts!
With a mousse, you can more easily see where you've already tanned and you're way less likely to miss spots.
This one dries pretty fast and doesn't leave you feeling sticky and gross for very long.
Cons:
While the Isle of Paradise smells heavenly, this B.Tan smells like straight tan. No if's, and's or but's about it. It stinks…like…tan.
While easily fixable, this one is a bit streaky. You just have to stay extra cautious and make sure you really rub all of the product into your skin.
L'Oreal Sublime Bronze water mousse, Medium – $12
Pros:
While the only color available is medium, you're actually left with a beautiful natural tan.
The price. Come on…$12? Can't ask for much better.
Because it's a water mousse, the color doesn't transfer onto your sheets or clothes.
Aaaaaaand…that's about all I liked about this one.
Cons:
Y'all, this is not my fave. The color is pretty but I was sticky for literally hours. I don't care how pretty the color is I cannot walk around (or go to sleep) feeling like I've just rolled around in honey. It's just not worth it.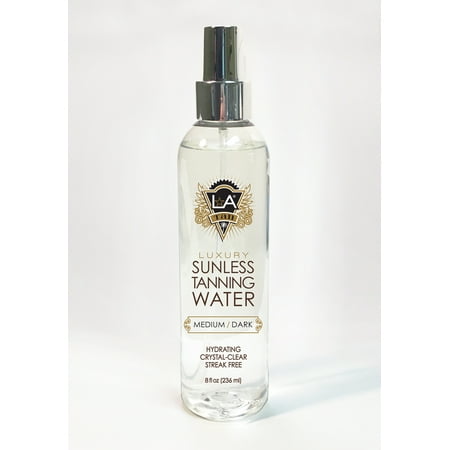 LA Tan Sunless Tanning Water, Medium/Dark – $10
Pros:
This is a dupe for the Isle of Paradise tanning water for under half of the cost. This one is perfect if you're just wanting a subtle glow or apply in layers for a darker deeper tan.
The price is to die for, ringing up at just under $10.
It doesn't leave you sticky at all, drying almost immediately.
Cons:
I guess my only "con" is that to get that deep tan, you have to apply more than once or combine with another product. But overall, I love this stuff.
_______________________________________________________________
Now that I've shared the pros and cons, you may be asking…which do you use? Well, probably not, but I'm going to tell you anyway.
My favorite tanning routine is…
shave and exfoliate your body in the shower
moisturize any areas of your skin that are super rough. I usually moisturize my feet and my elbows.
using a tanning mitt (this is the one I use), I apply a tanning water (either IoP or LA) to my entire body starting with my legs. Only do one body part at a time. Spray it on really well and then rub it in with your tanning mitt evenly before it dries. Work up one body part at a time until your entire body is tanned.
I immediately go in with the B.Tan Tanned AF tanning mousse. The combination of the water and this mousse is my absolute favorite.
let dry for a few minutes before putting on loose clothes.
go to sleep and let your tan 'set' over night.
shower in the morning and enjoy your new bronzed body.
Click the image below to save it to your Pinterest board. 
Shop all the things:
What are your favorite self-tanning products?
xoxo,